Too Gory For The Silver Screen
EMPIRE OF THE B'S: THE MAD MOVIE WORLD OF CHARLES BAND. The 'Pulse-pounding' saga of the Charles Band Empire… Charles Robert Band is one of the last great B-movie survivors-a genuine pioneer who, over four decades, forged such a unique path through the no man's land of independent genre cinema that many thought him more than capable of seizing legendary producer Roger Corman's long-held crown as 'King of the B-movies'. The 1970s through to the late 1980s was the last great 'golden age' for the B-movie community, and with a non-stop series of grindhouse classics like Laserblast, Parasite, Re-Animator and Dolls for his own company Empire Pictures, it was the era that saw Charles Band take his rightful place in the indie hall of fame as Emperor of the 'B's. FOREWORD by Stuart Gordon.
I wrote the "Guest Chapter" for 2014's gigantic book by Dave Jay & Friends. Entitled TOO GORY FOR THE SILVER SCREEN, my chapter covered generally the 80s VHS boom, but more specifically Charles Band's company Wizard Video which made a splash across American video stores back in the day, with their garish colors and take-no-prisoners marketing. That book did so well, reaching as far as late night television as comedy material (see photo below). Actually, it was a blast to be small part of it, so much so I will be expanding my piece into a full-length book soon. Watch this space!
"John Klyza, writer/ producer of cult faves Doll Killer and Sleepaway Camp IV discusses the history of Wizard Video, Band's direct to video arm with the same depth and respect found throughout the rest of this book. There's a complete Wizard filmography listed after the historic overview, as there are just too many films to go through individually. Klyza mentions the big titles (i.e. Texas Chainsaw Massacre and Equinox) and gives serious thought to the artwork for the Wizard releases. I wish more people recognized the importance of video artwork during the rental boom. Its inclusion here is just another example that all involved strived their hardest to make this book comprehensive and engaging." -Review, So Bad It's Good Blog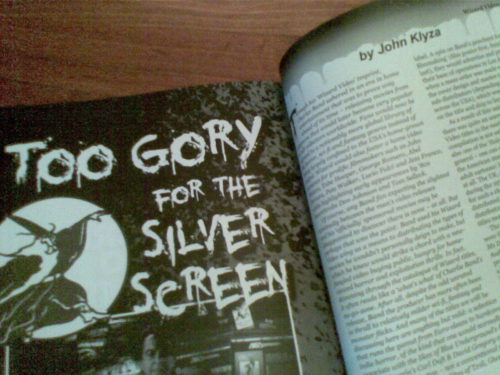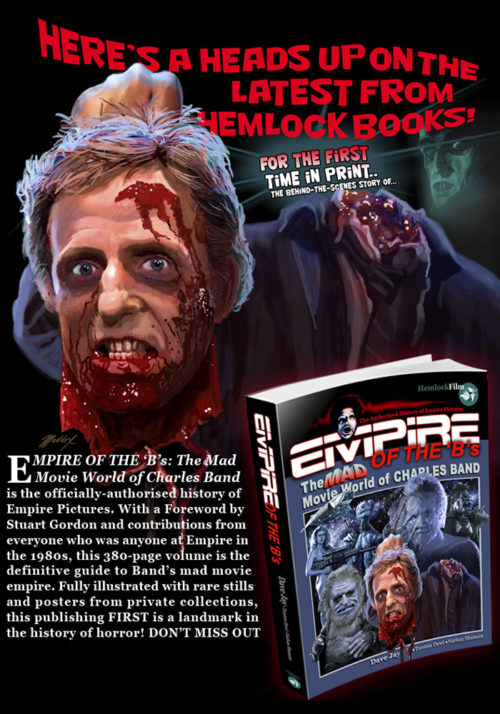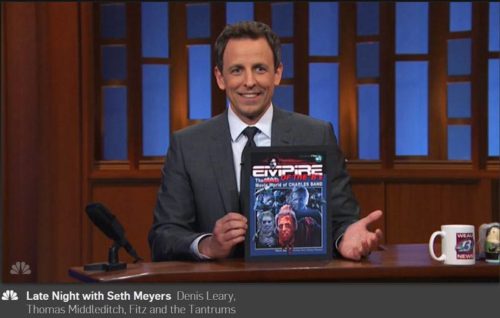 Chapbooks
To support home video releases of films through his distribution outlet, I created short-subject chapbooks for SILENT NIGHT BLOODY NIGHT 2 (2015) and CITY OF THE DREAM DEMONS (2016). The former was a faux-diary written in the voice of a character from his screenplay, while the latter was presented as a mini-magazine. I fully designed and hand-bound these extremely rare chapbooks myself, and they were also experiments in publishing logistics – which will come in handy down the track.