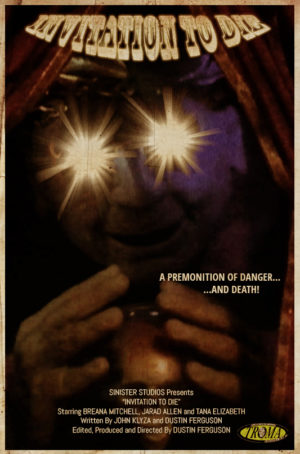 2014's INVITATION TO DIE, a microbudget potboiler character piece I co-wrote with director Dustin Ferguson has a new lease on life as it was picked up by legendary genre distribution company Troma Entertainment (TOXIC AVENGER, TROMEO & JULIETTE) – despite 100% lacking in exploding chicken guts. Let's all pause to reflect on the most incredible thing here – that Lloyd Kaufman very likely watched the thing.
After some eerie advice from an old fortune telling machine, a young woman receives an invitation to her high school reunion. However, she arrives to find a desolate building and a masked maniac lurking in the shadows. What secrets do the building, the killer, and the woman hold? RSVP your Invitation To Die!
INVITATION TO DIE is available to rent or buy from Troma's online platform, Troma Now. Cheaper than a bag of chips – which, incidentally is what the movie cost to make. How can you go wrong?