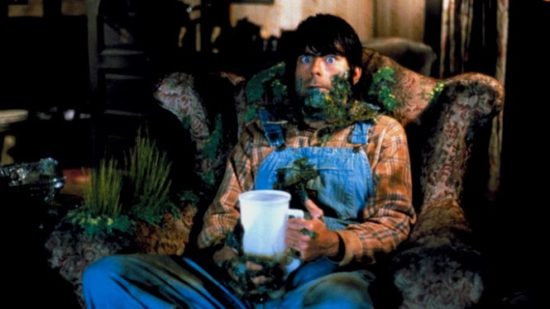 If I had to summarize 2017, it'd be: running the gauntlet. I lived parallel lives, ticked boxes and spent more time on the road than the carpet. I did get to see CREEPSHOW on the big-screen for the first time since childhood when it was the very first big-screen horror movie I managed to worm my way into. You might say it left an impression on me. I'm just sorry the revisiting could only be triggered by director George A. Romero's passing. We lost a lot of genre legends last year. As you get older, your heroes die. It sucks.
But there was plenty to celebrate here at Klyza HQ: In a roughly six month window, CABIN 28 was shot and released worldwide by a slew of established companies like Sony. This one did good, too. Read all about that HERE. Having a true crime feather in my cap opened up some new avenues for me, which I'm now exploring. To mark the occasion, I redesigned Klyza.com into a sleeker, more streamlined form.
I took on a heavy-duty project which I've titled I EAT YOUR SKIN. It's a Filipino-lensed supernatural cannibal jungle flick. You may remember a film by the same title many decades ago, and that's not coincidental. All I'll say is I'm dedicating this one to exploitation distributor Jerry Gross. I've spent considerable time in the editing room – even consuming my new year's eve – to incrementally hack away towards its completion. Adding, removing, and re-arranging footage as well as designing brand new shots with basic digital tools practically no more sophisticated than Microsoft Paint. In other words, what I've done many times on past projects to add extra value in post-production. I'm doing my best to push this out sooner rather than later.
On a personal note, 2017 was the year my father almost died. John Klyza Snr was stuck at home alone, paralyzed for several days and unable to reach the phone, food or water. Without any evidence beyond a gut feeling I drove four hours to break in through a window and discover him in the middle of a heart attack. The paramedics told me it was a miracle I got there when I did. I believe it. His heart stopped nine times in their presence. He made it through several weeks of surgeries and associated complications. It was touch and go but… he's going strong now. Stronger than ever before. You can't keep a dinosaur down – just ask Godzilla.
In lighter news, your boy John had a textual cameo in a brand new TV Movie thriller! There's no doubt I would watch Stephen Romano's films for the Lifetime Network, YOU KILLED MY MOTHER and WEB CAM GIRLS. The latter, a tight kidnapping thriller that reconfigures the whodunnit structure, contains a scene with an internet chat room – where one of the anonymous suspects is named after me. Stephen slapped that in there for kicks. I'm very honored, and now I like to joke I'm now officially an internet creep. Hey, the movie says so. Stephen's two telemovies have been a gateway drug that now has me snorting high on the likes of TINY HOUSE OF TERROR and A TALE OF TWO COREYS. Forget the grindhouse, the damn Lifetime Network is where the most sensational titles can now be found. What an age, huh?
Those were the highlights and lowlights. There was plenty more to wax on/wax off about about, Danielsan, but it's a brand new year and there's a lot coming down the pike in 2018 and beyond. So keep your eyes peeled.