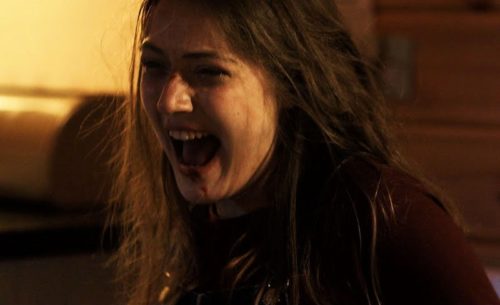 A little pulp true-crime movie I wrote, CABIN 28 is now widely available across the world in big stores like Walmart and HMV and reached #5 of all DVD sales in United Kingdom after its 1st week of release.
You can find it in the US on DVD & ITunes from Sony Pictures Home Entertainment, in the UK on DVD from 4Digital Media plus TV via SkyMovies UK, and on VOD in both Germany through GMBH Movies and Sweden from Take One. And eventually I'm told, an Australia release.
I recently spoke with David Wain for his excellent home video column;. Check it out for comments from the director and some insightful opinions on the film. Here's the full text of our chat on the film:
Were you familiar with Andrew's films before CABIN 28? How did the opportunity to write this come about, or was it a script that you'd already written?
I think the appeal of Andrew's films is that they are contemporary concepts utilizing more traditional beats of the genre, which is why they do well in the marketplace. I noticed North Bank Entertainment as a prolific up and coming production company since day one. NIGHT OF THE LIVING DEAD: RESURRECTION was a ballsy remake which implemented modern commentary about smartphones. When the news made the rounds that Andrew sold it to Lionsgate in the US, I knew he was one to watch. Coincidentally enough, we both separately used the same old movie to springboard new ones – he produced SILENT NIGHT, BLOODY NIGHT: THE HOMECOMING and I wrote SILENT NIGHT, BLOODY NIGHT 2: REVIVAL which was shot a little later. We discussed a few possible projects over the years, mostly involving SLEEPAWAY CAMP. As for CABIN 28, it was ultimately just the right time, right place. He already had the project greenlit, but he was working on probably twenty other movies so he asked me if I would write it. The Sony Home Pictures distribution deal was already in place, so I felt confident in moving forward.
Obviously you're not based in Wales. How did the process work during shooting? Were you in contact with Andrew?
Having written several movies shot internationally, I'm quite happy here in Australia to hand the script off and wish them luck from afar. Andrew runs a professional team, and it helped that we had been on the same page since day one. I've since written the story for another North Bank project – THE LAST HOUSE ON SORORITY ROW.
How much did the final film change from your original script? How quick was the overall process from page to screen?
I wrote it during April and May of 2016 and it was shot 8 months later. Andrew gave me the freedom to hit the story from any angle, so long as it would fit neatly alongside THE STRANGERS, YOU'RE NEXT and HALLOWEEN. I did a ton of research before and while writing it. It's important to know your subjects well, even if a lot of it doesn't end up on the page. It's like an iceberg, yeah? The script had a longer build-up, a few more setpieces and the killers had differently themed identities. The production had to play within the confines of the location and budget so they ended up streamlining a few things. To foster a collaborative approach they even added a few ideas to the mystery and internal drama. I like to say that scripts aren't blueprints to make a film from, they're more like road maps. And who doesn't like exploring a few side routes on a road trip?
Thoughts on the final film?
My favorite scene was when the killer's trying to get in the door and Tina's stuck in this mental fight with him. He's nonchalantly offering excuses why he's stranded and she's answering with reasons why she can't let him in. He starts snuffing them out and breaking her down. The whole scene plays on her face and you can see her mind ticking away under pressure. I thought a subplot with Lee Bane's character tied in well with the family drama, and the final scene with the suspects walking away was both frustrating and heartbreaking. Just another day for them.