A week into the second month of the new year I'm still blinking that it's 2016 not 2015. This month I produced the collectors VHS of SILENT NIGHT, BLOODY NIGHT 2 which included fun extras like poster, booklet and lobby card. Creating those extras was a precise, methodical process, especially the booklet. I'll have to break down the process sometime, somewhere. I should mention that we released the movie on DVD in time for Christmas, just as promised. It has been well received.
Finally, OCCULT HOLOCAUST – a documentary, mockumentary, or what have you, hit Amazon a few weeks ago. Originally titled OCCULT, to help it become more search engine friendly in the marketplace I requested the titular addition, also to jazz it up a little in the vein of ROBOT HOLOCAUST which boasted a cover so awesome, the little movie inside couldn't possibly live up to it. But that my friends was part of the carny mystique you entered into within every 80s video store.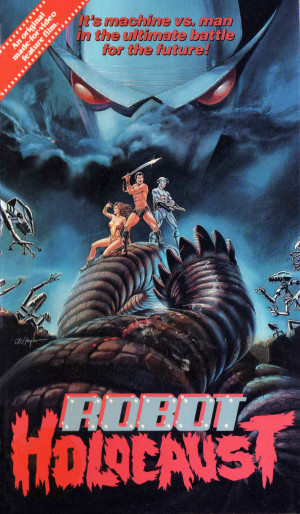 Explosive! Colorful! Electric! That's how I like our releases. Also, with OCCULT HOLOCAUST I debuted a streamlined back cover style to maximize image space for our packaging, plus to harken back to Wizard Video, the company responsible for ROBOT HOLOCAUST. In the book Empire of the Bs I wrote about the legendary label – and something pretty cool is on the way regarding them…
In fact there's a lot of cool stuff on the way this year. But no Cinco de Hype-o. You will learn about me that I don't talk up projects yet to come to fruition, this is because many creators fall prey to the danger of talking more than doing. I am a doer. I could easily slip into the other category, so I power through finishing a project and move onto the next with nary a breath. Maybe a quaint notion in the social media age of kinetic self-promo rinse-repeating, but it's simply a time and energy management issue for me. Ask anyone, I love to talk about my creations!